Service Provided

A private label company that was entering a new coatings market had little experience with the coatings products for the market and a limited understanding of the needs of potential customers. GOLDEN PAINTWORKS was asked to educate the company about the new market and to provide a range of consultative services to guide the company's new venture. Ultimately, GOLDEN PAINTWORKS contributed value-added services in the manufacture, development, and marketing of the new private label products.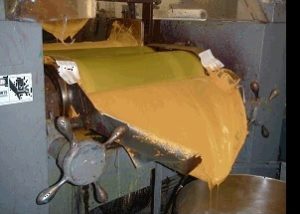 GOLDEN PAINTWORKS has concentrated on understanding the needs of the end users of the new coatings, so we were able to share a wealth of knowledge about the expectations of potential customers. We presented a large palette of product ideas for our client to consider, sharing benefits of each component and providing an extensive list of color choices. We outlined a long-term tactical plan, identifying numerous ways to periodically refresh the existing program, or expand successful areas of the market. In addition, we supplied our client with ideas on how to market the coatings through promotional literature, color charts and point of purchase presentation. Our client selected from the options we presented and chose to take advantage of Paintworks' manufacturing capabilities. A production timeline was generated to assure timely delivery and test batches of product were put through rigorous testing for product performance, shipping stability and application demonstrations for our customer. Performance standards were defined according to mutual criteria and written documentation of analysis provided our customer with assurance that the product would remain within outlined specifications.
As GOLDEN PAINTWORKS undertook to manufacture the new product line, there was strict adherence to a production schedule, achieved through a close collaboration with our client and other outside vendors. Our regulatory personnel ensured product compliance within the targeted new markets and further, as we continued to generate ideas for expanding marketing efforts. On a continuing basis, we remain in partnership with this customer and seek new applications and new end users for existing products, as well as researching and developing new products and strategies to meet our client's expanding business needs.
Summary of Requirements
Market research for target market and new markets.
Staff education with regard to target markets.
Continuous new product development.
Design and production of "point-of-purchase" marketing materials.
Assurance of quality standards and timely delivery.
Regulatory compliance in numerous markets.
Complete "soup-to-nuts" product development and manufacture.
Creative Solutions:
-Created a long-term plan that accounts for trends in the marketplace and suggests ways to improve sales and acquire new customers.
-Generated a reporting process for ensuring all manufacturing commitments would be met.
-Continuous improvement in manufacturing capabilities (offering our customer improved efficiencies), update of formulations to keep products current with changing regulations.