Golden Artist Colors Employees Celebrate 100% Ownership of the Company
– Columbus, NY, October 1, 2021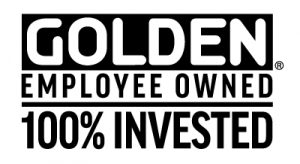 As of October 1, 2021, Golden Artist Colors, a global manufacturer of professional artist paints, is proud to announce it is now a 100% employee-owned company.  This transaction culminates a plan put in place in 2002, when the company implemented an Employee Stock Ownership Plan (ESOP) for staff.  In May 2010, a new phase of the ownership journey began when GOLDEN staff became one of only 4,000 other companies across the entire United States to be majority owned by its employees.
"Implementing 100% ownership for staff is very unique and something our family has dreamt about since the company's beginning," said GOLDEN CEO Mark Golden.  "We began on the premise that 'what you care about will grow' and Golden Artist Colors has grown many times beyond the dreams we once had as we peered across the fields from my parent's kitchen. Four decades later it is clear that we've grown in the most wonderful ways. It has been through the care and dedication of each of our staff that has joined us on this journey and made this place part of themselves."
"Time has demonstrated that companies with 100% employee ownership often see greater productivity, higher profitability, and increased revenue," said Golden.  "These successes tend to continue over time, as employees have a vested interest in the sustainability and overall success of the company.  We're excited to experience this new phase in the company's dynamic history!"
An ESOP is an employee benefit plan, which provides company stock to employees as part of their retirement benefits.  As a 100% ESOP owned company, all of the Golden Artist Colors, Inc. stock is now held in trust by the ESOP exclusively for the benefit of the GOLDEN employees.
"Mark and Barbara Golden's goal was to secure a sustainable future for Golden Artist Colors staff that was beneficial to each of them," said GOLDEN President & COO, Barbara Schindler. "Employee ownership, when done right, benefits all stakeholders and should be celebrated.  It is a true win/win transaction for all parties involved."
According to data provided by the National Center for Employee Ownership (NCEO.org), there are approximately 6,600 ESOPs in the entire United States, holding total assets of over $1.4 trillion. ESOPs currently cover over 14 million participants, of whom 10.3 million are active participants (currently employed and covered by ESOP).
To learn more about Golden Artist Colors, go to www.goldenpaints.com.
For additional information about employee ownership, go to www.nceo.org.