Mural Paints for exterior applications.
A palette of 36 exterior grade, 100% acrylic, architectural coatings, formulated with pure,
artists grade pigments for clean colors with excellent color retention.
Making the best paint to ensure the long and healthy life of your mural.
Artists who have been using house paints for their murals will notice the difference in the increased color vibrancy and workability of the Mural Paints. Unlike house paints, the Mural Paints are great for blending, hard edges or minute details. All of the Mural Paints are VOC compliant with less than 50 g/l.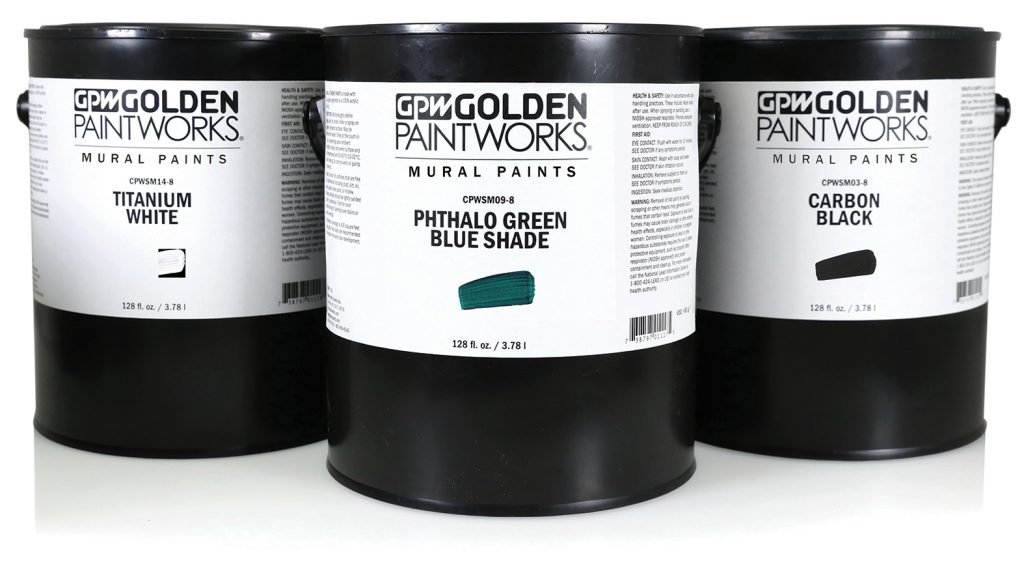 Mural Paints

Recommended for murals 1500 sq. ft. and larger, GOLDEN Paintworks® Mural Paints are formulated with high quality artist-grade pigments, so the colors are strong, clean, and bright. Made with only the most lightfast pigments, Mural Paints are 100% acrylic, very opaque for good coverage, offer excellent leveling and dry to an even satin sheen. Brush, roller or spray apply. Available in Gallons – 2 Gallon Minimum.

After your mural has been painted and is fully cured, we recommend taking additional protective steps to ensure the mural has a long, healthy life. Start with the optional Mural Isolation Coat followed by Mural Varnish with UVLS.
Mural Isolation Coat

Golden Paintworks® Mural Isolation Coat is a permanent clear glossy acrylic layer that will even out the absorbency and sheen of the mural's surface, allowing for easier application of the Mural Varnish. Additionally, the Isolation Coat acts as a permanent barrier to protect the mural against damage if the varnish ever needs to be removed. The Isolation Coat can be brush or roller applied. Available in Gallons.
Mural Varnish with UVLS

Golden Paintworks® Mural Varnish with UVLS (Ultraviolet Light Stabilizers) is a Mineral Spirit based Acrylic resin system that dries to a tough, yet flexible protective finish, protecting the mural against dust, dirt, marring and environmental conditions. The UVLS system provides increased resistance to the harmful effects of ultraviolet radiation exposure, helping to ensure the longevity of the mural colors over time. The Mural Varnish is a removable, VOC compliant coating available in a Semi-Gloss or Satin sheen. Mural Varnishes must be thinned with Mural Solvent before use. Available as 3 Gallons in a 5 Gallon Pail for Solvent Addition.
Mural Solvent

Golden Paintworks® Mural Solvent must be used to thin Mural Varnish before use. Mural Solvent assures a clear, clean, even application. Golden Paintworks Mural Solvent can also be used to remove Mural Varnish at a later time for restoration purposes. Available in Gallons. 
Mural Adhesive Gel

Golden Paintworks® Mural Adhesive Gel is an excellent adhesive with flexibility, chemical, water and UV resistance. Designed for adhering parachute cloth to the wall when creating a mural on sections of parachute cloth (non-woven fabric) for later installation. Available in 5 Gallon Pails.
Please visit the Resources page for Technical Data Sheets and Safety Data Sheets.
Supporting the Arts
2% of all Mural Paint sales are allocated to support non-profit Mural Arts programs and organizations with Mural Paint for their projects. This is one of the many ways Golden Artist Colors works to support its bold vision statement: "Our Company is a catalyst, bridging creative communities and inspiring positive global change through the arts".
Our Rich History
Golden Artist Colors, and its commercial division Golden Paintworks, has a long history of working with mural artists and mural art groups, almost as long as the company itself. Best known as the premier manufacturer of artist-grade fine art acrylics, Golden Artist Colors had its origins in 1933 when CEO Mark Golden's, Great Uncle Leonard Bocour began making hand ground colors for artists.  Mark's father, Sam Golden joined Leonard Bocour in 1936.  Leonard, a frustrated artist, created a company that was truly part of the arts community.  Sam became the paintmaker and they remained partners until 1972 when Sam retired and moved to a farm in the town of Columbus in upstate New York.  For 7 years Sam tried retired life, but he was restless and in 1979 Mark Golden and his wife Barbara joined Sam to start Golden Artist Colors.
Golden Artist Colors became immersed into the world of mural arts in 1984 with a project for Archie Rand who was commissioned to create a mural depicting the chapter Genesis at the Michlalah Jerusalem College for Women on massive marble walls of the newly created library.  This project included the challenges of adhesion onto friable marble, as well as exposure to the sun of the Middle East!  GOLDEN created whole new systems for Rand to be able to adhere to the marble and this project marked our first use of an Ultraviolet light filter, which has since become a main stay for our mural varnish and topcoat products.
GOLDEN's next big foray into mural arts was for the massive mural "West and North" by Norman Yates. For this we were able to work with the scientists and engineers at the Canadian Conservation Institute.  This mural was on the West and North side of the Education building at the University of Alberta, quite a difference in temperature from the Middle East!  We are delighted that, because of the care the University has given the mural, it continues to hold up over 30 years from its completion in 1987.
GOLDEN has had the good fortune to make colors for many wonderful mural artists including, William Cochran, Kent Twitchell, Knox Martin, HENSE and hundreds of other mural artists around the world. In doing so, we've also had the pleasure of working with and supporting artists and communities that are truly changing the communities where the murals are located.  Some examples include Lori McKinney with the Princeton Renaissance Project in rural Princeton, West Virginia, where we were able to contribute to their "Artist Alley" murals to support their performing and visual arts center in the town. GOLDEN was also involved with Project Row Houses in Houston, TX, whose mission is to be a catalyst for transforming community through the celebration of art and African-American history and culture.
GOLDEN has also had long standing relationships with some of the country's leading mural art groups and festivals, including the Mural Arts Philadelphia, a program dedicated to the belief that art ignites change, and O+ Festival based in Kingston, NY, a program focused on building long-term relationships between creatives and health & wellness providers to help strengthen local communities. Beyond the United States, GOLDEN has contributed to murals in Bosnia, Haiti, Cuba, Armenia, Russia all to artists and communities that see the art as a path to dialogue and social change.
Over the years, GOLDEN has also been involved in helping to preserve murals that are deemed important by their communities.  GOLDEN's work with Mural Arts Philadelphia began when we participated in the conservation of "Common Threads". The mural was originally painted by Meg Saligman in 1998, and it became the iconic mural of the great renaissance of Philadelphia's mural arts program.  Unfortunately, over time, many parts of the work had colors that failed.  Working with the conservation team at the University of Delaware and their graduate conservation program at Winterthur, we came up with a solution to re-saturate the colors with our MSA Varnish with Ultraviolet Light filters.  Some colors were repainted with our acrylics, and the mural regained its earlier brilliance.  We currently continue to work closely with the Mural Arts Philadelphia program, which is the nation's largest public art program.
GOLDEN's history with mural artists, mural groups and mural conservation, including the relationship with Zambia Greene and Jane Golden at Mural Arts Philadelphia, and more recently with O+ Festival, and its director Joe Concra, has all come together as the catalyst for moving forward with the expansion of a line of paint made specifically to meet the needs of mural artists and to address the issues inherent with large scale, outdoor murals. For us the outdoor mural stands as a painting that is subjected to the harshest conditions demanded of any paint system. Our goal was to leverage all of our experiences with murals and mural conservation to address the key problems we were hearing from mural artists, while developing one of the most durable paint systems available.  Since budget for the maintenance of murals is not often available, the most important conservation measure an artist can take for their work is proper preparation and use the best materials available.
Key problems we were working to solve in the creation of a mural specific line:
Fading, especially yellows.
The ability to mix the colors without losing vibrancy.
An artist paint with a consistency that is similar to house paint for an even application, with an even sheen.
Spray-ability without thinning.
Increased durability to minimize weathering and repairs.
Value/cost: quality paint at a reasonable price.
While the Golden Paintworks Mural Paints have been in use by mural artists for over five years, in large part by Mural Arts Philadelphia, in June 2018, Golden Paintworks formally launched the line of architectural coatings designed specifically for use on interior and exterior murals. Golden Paintworks (GPW) Mural Paints addresses all of the key problems targeted in the creation of this formula and meets or exceeds the performance of the best house paint products available on the market.
Golden Paintworks Mural Paints are 100% acrylic architectural coatings pigmented with artist grade colorants, selected for superior quality, durability and strength of color.
The line consists of 39 colors formulated to house paint consistency and all are formulated to a flat sheen.
36 of the 39 colors contain lightfast colorants designed for exterior use. The remaining 3 colors, Ultramarine Blue, Quinacridone Magenta and Dioxazine Purple are in the line for the unique color space they represent, but should only be used for interior murals.
All colors are VOC compliant at < 50 g/l VOC content, in all US jurisdictions.
The line meets the criteria for LEED Credit 4.2 (Low Emitting Materials – Paints and Coatings).
Golden Paintworks Mural Paints are compatible with other GOLDEN products such as Golden Heavy Body Acrylics and Golden Fluid Acrylics.
Golden Paintworks Mural Paints are recommended for murals 1500 sq. ft. and larger and are sold directly to mural artists or mural organizations in the US and Canada. Artists or organizations interested in purchasing Golden Paintworks Mural Paints should contact Golden Paintworks at paintworks@goldenpaints.com.