GOLDEN Pro Finishes is a line of decorative painting products developed for professionals. The line consists of high-performance paints, glazes, tinting dispersions, and ancillary products that intermix seamlessly and give the professional decorative painter a virtually limitless ability to manipulate color and sheen.
GOLDEN Pro Finishes products are designed to complement the Golden Paintworks Lifestyle Finishes products and can be mixed in any combination.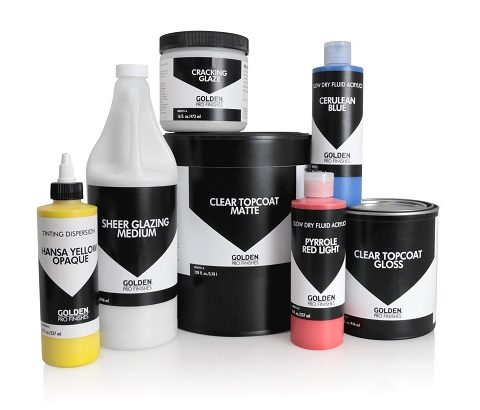 GOLDEN Pro Finishes Tinting Dispersions are concentrated, waterborne dispersions of permanent, artist-grade pigments in a polymeric resin. Use as an additive to color painting mediums and textures without altering product properties. Available in 13 tinting colors.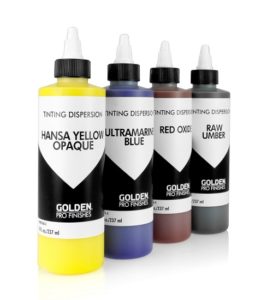 GOLDEN Pro Finishes Slow Dry Fluid Acrylics are acrylic waterborne paints designed with ideal color strength and a long open time for decorative painting techniques. Available in 23 colors.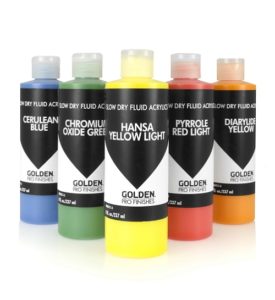 GOLDEN Pro Finishes Additives, Glazes and Mediums are a collection of tint-able waterborne products, including a matting additive, three long open time glazing mediums of different viscosities, and two clear cracking products.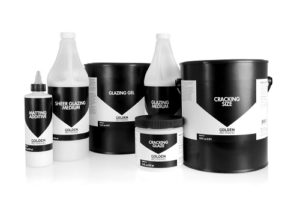 GOLDEN Pro Finishes Topcoats are clearcoats formulated with exterior-grade polymers that are compatible with most waterborne products. They are tint-able and may be blended with GOLDEN Pro Finishes Glazing Mediums to adjust gloss, working time and strap down.