Jittaun Priest of Brushworks Design is a decorative artist located in Chicago, Illinois. Jittaun has served homeowners, designers and businesses in the Chicago area for the past 20 years. She does work throughout the US as well, and her work can be seen in Florida, Houston, Atlanta and Detroit. Brushworks Design style is modern, clean and timeless. Jittaun loves the use of texture and metallic paints. Her clients say she adds that extra POP! that makes a space stand out. Brushworks Design does murals, decorative finishes, faux finishes and furniture painting.
How did you get into decorative arts and was it a career you saw for yourself early on?
I'm an artist by nature … I have been doing arts and crafts since I was a kid. My talents come from 3 influential women in my life — my grandma Celeste, my mom Mary, and my aunt Michelle. I always knew that when I grew up I was going to be an artist, I just wasn't sure how. At the time it didn't seem as though you could make a good living as an artist, so I went to school for architecture, then switched over to graphic design. When I graduated from college, I continued to work as a graphic designer, but was bored being on the computer all the time. I wanted to do something different.
My love for interior design and art led me into the world of decorative painting. Watching HGTV in the 90's, I fell in love with a show called The Painted House. It was hosted by a lady named Debbie Travis who was a decorative painter in Europe. I didn't even know that a field like this existed until I saw her. I was instantly hooked. All the techniques and designs she did inspired me. I found a school in Chicago that taught me how to do the same techniques and more. I read dozens of books, and watched all the videos that I could find at that time.
Then 9/11 hit. I got laid off and decided to take a chance on myself and start my own business, JiPri Design. At first I was doing graphic design work and painting. Over time I got more and more paint jobs. I changed the name to Brushworks Design LLC and I haven't looked back since. Here it is almost 20 years later and I'm still doing what I love.I incorporate all my skills and experience into what I do (art, graphic design, architecture and decorative painting). That's what keeps me motivated to continue.
What influences do you think shaped your approach to decorative art?
Interior design influences me. Decorative painting was a way for me to be a part of interior decorating without going back to school and getting an interior design degree. I enjoy making something out of nothing. To change the mood of a space from basic to fabulous with paint colors and sometimes texture amazes me.
What are some of your favorite decorative trends? Are there any you don't particularly like?
Texture and pattern are trending now. I get a lot of jobs now that either have some form of texture design or stenciling, to either mimic an expensive wallpaper or just to add something creative to a client space. The refinishing of furniture is also popular. I Enjoy working on those projects as well. The glitter trend is subsiding. As much as I like a little bling, glitter used to get everywhere and it's a bear to get rid of … I'm glad it's fading out.
What's something you hope to accomplish in 2023?
My plan for 2023 is to purchase real estate and open a studio. I want to teach what I have learned in this journey. I would also like to get more into doing artwork and painting furniture.
If another decorative artist or entrepreneur came to you for business advice, what would be one of the most valuable pieces of advice that you could pass on to them?
I would tell them that it is essential to have the administrative side of the business in order. Most creative people struggle with that side of business. Get your LLC, hire a bookkeeper and accountant if you cannot do it yourself, and make sure you have contracts. I would also tell them to always be a student in this business. There is always something to learn. And don't be afraid to be unique.
On a whim you buy a lottery ticket that ends up winning $10 million. What would you do?
I would have 2 studios. One would be here in Chicago where I would teach in the warm months. I would also like to create and have programs for the kids and teens that are interested in art. My 2nd studio would be my private studio in my beautiful home on an island like Jamaica, where it is mostly warm and I can live off the land. There I would do my artwork and enjoy the rest of my life with my family.
See more of Jittaun's work here.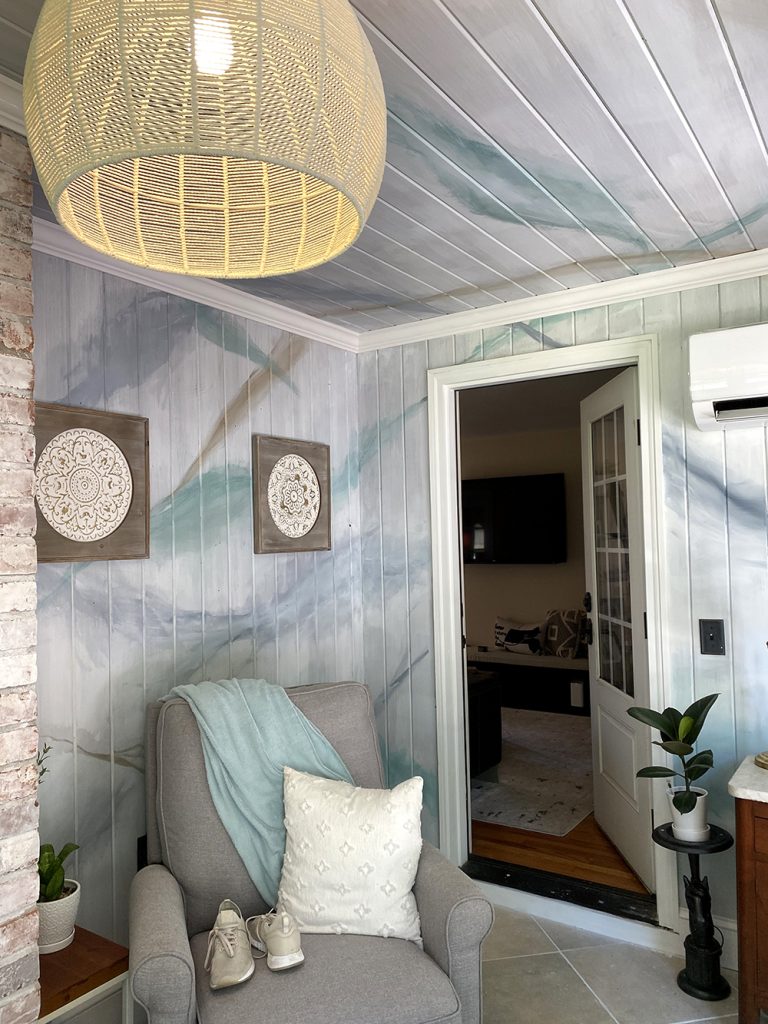 Aislinn Paige specializes in decorative painting and murals. She became enthralled with local murals depicting the ongoing conflict between the Irish and English and since then has focused
Read More »