It was love at first finish! I was smitten with the decorative arts after taking a college course in California. I realized what I wanted to pursue after working in the film business and eventually for a special effects company (pre-digital – where everything was made by hand). Faux finishing gave me an outlet to express my creativity along with my love for working with my hands. 20 years ago, with only the cans of paint in the garage and a mural commission, Faux Time Design was born.  
What is your favorite part about your job? 
Hard to pick just one part. The creative challenges, getting my hands dirty, and collaborating with designers and clients to fine tune and execute their vision is so satisfying. 
Also, after the tape and drop cloths are removed, the finishes always take my breath away. Who doesn't love a good "before and after"? Being so close to the surface, the walls, ceilings and floors, I often remind myself to step back and appreciate the overall aesthetic of the finish. 
In addition, I am never bored. One day high atop a scaffold, another with my feet planted firmly on the ground. Some jobs last for several weeks and others only a day, many times with other artists or people of many trades appreciating the hustle and bustle. On other days, it's just me focusing on my project while listening to a podcast or my favorite music. The jobs have taken me from apartments in highrise buildings all over the city to homes of all sizes. Not a dull moment to be had!
How would you describe your artistic style?
I have an appreciation for all types of art, although I am drawn to bold, serene, and modern; individually or all together – so eclectic would be a good umbrella term. 
What advice would you give someone wanting to become a Decorative Artist but who's not sure where to start?
Find and take classes. There is an abundance of community and camaraderie in this field. All of the artisans I've met go out of their way to help each other to be successful. The Decorative Arts are constantly evolving and it is important to continue educating ourselves in the latest trends and materials so we know the best fit for each individual project and/or can suggest what would work in any situation.
Also, sometimes we use the phrase "walk away" If we get caught up in one part of the wall, ceiling or floor and lose the overall vision. This can make the project more challenging. I have found this pause so helpful in not getting stuck in one area too long.
Lastly, have fun! All the materials have instructions, but experimentation can lead to something new and exciting. Maybe it will become the newest trend. Whether working on the wall, or the time in the studio with the music blasting and I'm "in the zone", I am truly enjoying myself. 
Favorite HGTV star or show and why? 
My favorite two shows couldn't be more opposite, David Bromstad's Color Splash and Fixer Upper with Joanna and Chip Gaines. Although David Bromstad's show was a long time ago, I appreciated how bold he was with color and design, so ahead of his time.  The design style might not hold up as well now, but the concept of a pop of color with our finishes or in a room design remains relevant. Joanna and Chip Gaines on the other hand, create spaces that feel so peaceful, somewhat monotone with a pleasing flow. I also enjoy his humor, the genuineness of her reaction as well as her calm nature during the whole process of design.
We love HGTV in my home! Currently, one of my favorite shows is Love It or List It, because Hilary thinks outside the box to redesign houses and of course…the suspense of whether they will Love It or List It. 
What was something work related that you are particularly proud of?
I am proud of Faux Time Design's longevity, productivity and positive feedback. I never realized it would turn into such a successful endeavor. Personally, the development of Faux Time Design and my intense love I have for my work was a significant example for my two daughters. They saw me make a career out of my passion and be successful in what I do.
In addition, we have participated in some incredible projects including charitable Showhouses, Habitat for Humanity and donating time and money for other causes. Knowing our hard work went to help others is deeply rewarding. For me, that feeling goes beyond the day to day.
If you had to pick just one color that represents you, what color would it be and why?
Teal. It is a deep blue and green. It is the color I have chosen to represent me and how I communicate and accomplish successful collaboration at work. Teal can be used as a neutral or be very bold and simultaneously add softness. As Production and Design Director, I am a facilitator. Sometimes, the client or designer makes all the decisions and I remain neutral. Other times, I'm asked for my opinion and I need to be confident and bold. Regardless of the interaction, I have to be gentle and listen carefully. 
See more of Jill's work here.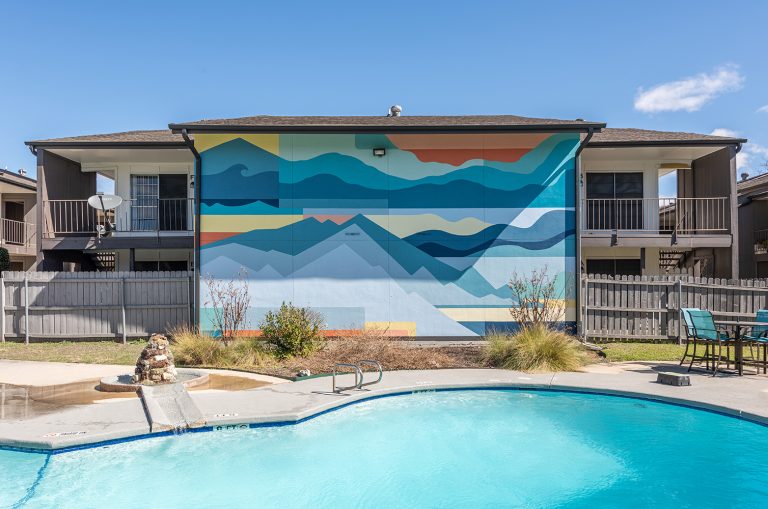 Husband and wife duo, Topher & Sara Mack, are the Artists & Owners of Artist Couple, LLC, specializing in murals and specialty finishes. Together they create custom spaces
Read More »