Stacey Van Gundy of Stacey Designs is a decorative artist located in Des Moines, Iowa. Stacey Designs has served homeowners, contractors and designers in the Des Moines area for the past 20 years. Stacey takes a multi-faceted approach to being a decorative artist. Her work has evolved from not only faux finishing, but now includes mural work, hand painted furniture and fine art. Stacey founded The Certified Home Decor Artist Training Course in 2020 to take a personal approach into growing the decorative artist industry she loves. She has now had the pleasure of teaching people from all over the US.
Please share a little bit about yourself and what influences shaped your approach to decorative art.
Prior to being a decorative artist, I was a stay-at-home mom, on an extremely tight budget, plus raising 4 children. With a love for decorating my home and with virtually no money, I turned to learning DIY faux finish techniques to update my home. This love of decorating and faux finishing was the gateway into me apprenticing with another decorative artist. After 2 years of apprenticeship, we parted ways amicably and I went on to take my first of many decorative artist classes. When I got back, I was introduced to a local builder who began hiring me on projects and I've been doing this amazing career ever since!
Early on in my career, I was mesmerized by all the texture and decorative artistry found in Old World and Tuscan design. There is texture and layers in the world around us and it can all be an influence. Lately I'm struck by Chinoiserie design. It pairs itself nicely with a maximalist design, but can also be traditional. 
What are your thoughts on staying current with online and social media trends? What are some things you've learned about doing TikTok videos and online Live events?
I think social media should be an integral part of any small business. Social media provides a great opportunity to connect with past and future clients and to collaborate with other artists. I have met so many decorative artists from all over the country that I wouldn't have known but for social media. When we do finally connect in person, it's like meeting an old friend for dinner, because we've already been friends for so long! Specifically, as decorative artists, it gives us the opportunity to show the world what we do and "why" what we do is so amazing!
One of the main things I've learned from doing TikTok videos and other social media such as Instagram and Facebook is to just be yourself. I really do minimal editing. If I spend too much time try to make myself and my surroundings perfect, I won't do it. I have a couple extra iPhones and I basically set them up on tripods and record everything I paint. One is always on time-lapse, so it records fast and the other one I just do small 4 second clips of each step and then put them together. Nothing has to be elaborate and you don't have to have a bunch of special equipment. Going live is a little bit harder. You just have to jump in and do it. I recommend going live with a friend or artist first so you're not alone and it doesn't feel so overwhelming. 
What job stands out in your mind as significant in some way and why?
One of my most significant jobs that stands out was a home we did about 15 years ago.  This was when everyone was knee deep in Tuscan decor. We did a textured wall finish on all the walls, along with brick break-outs, and faux brick arches. We came back every year for three years to do another room. I remember doing a multilayered metallic paint on her walls and custom ceiling drywall art finished in metallic plasters and a flourish stencil. Fast forward to about 5 years ago, the homeowner invited me back once again, but it was to change everything. The walls were updated with a new glaze technique. The breakouts were changed to look more farmhouse. We even went over the drywall art in the dining room with a glass bead finish. I think it really shows how decorative artistry can be changed as decor trends change. 
What advice would you give someone wanting to become a decorative artist? 
I would say go for it! If you are artistic, you can be a decorative artist. The first thing is you need is a portfolio of finishes to show your clients and you need a portfolio of your completed work. Whether that is doing a decorative finish in your own home or for a friend. I would also recommend finding a mentor. Someone that has been in the industry for quite a while to help you with bidding your first few jobs and just to bounce ideas off of and troubleshoot with. 
What's something interesting or surprising about you that most people wouldn't know just from talking to you? 
Now that's a tough one! I'm pretty much an open book. The one thing I think of is that I'm not afraid to try new things. Whether it be learning a new art form, launching a decorative painting course, or hiking Angel's Landing at Zion National Park. I always say that even if you try and fail, your still better off than when you started!
Favorite HGTV star or show and why?
I don't watch a lot of HGTV, but I have always been a fan of Fixer Upper. Chip and Joanna's quirkiness has always kind of reminded me of my husband and I. He runs a plastering and drywall company so we collaborate quite often on projects! Joanna's beginning of decorating her home on a budget parallels with mine also, and how she tries to find innovative design solutions on a budget for her clients.
See more of Stacey's work here.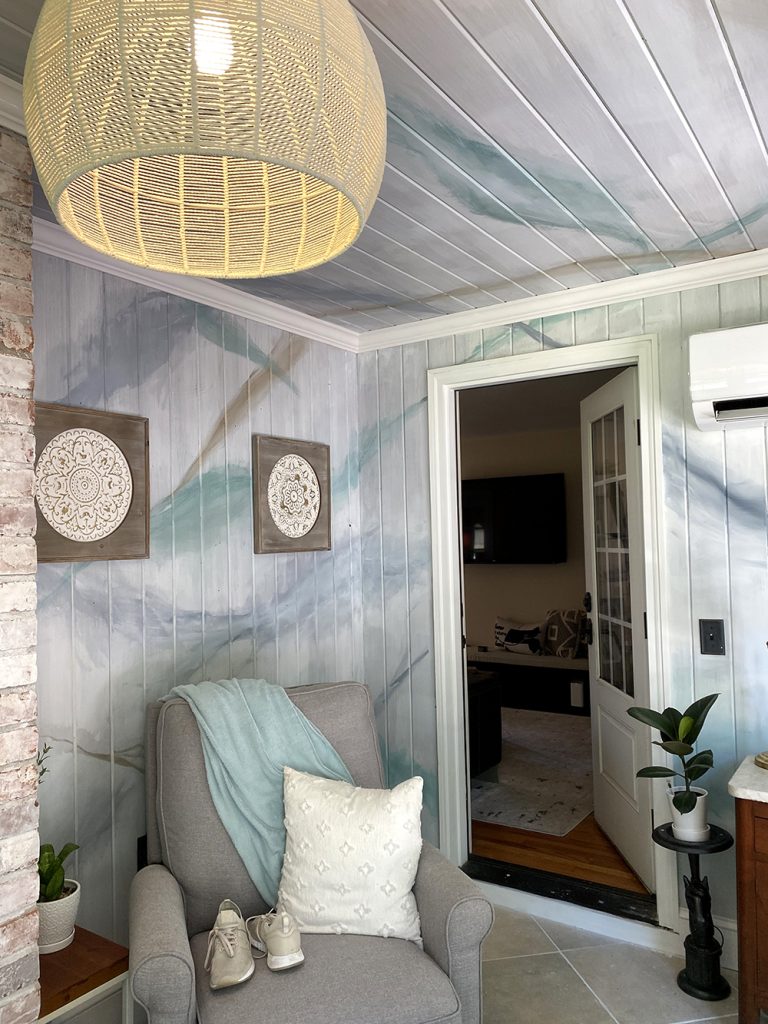 Aislinn Paige specializes in decorative painting and murals. She became enthralled with local murals depicting the ongoing conflict between the Irish and English and since then has focused
Read More »