Erin Murphy is a decorative artist living on the northside of Chicago. She is part of a mother/daughter paint team, The Decorative Finish, specializing in faux finishes, hand-painted patterns and wallpaper replications. Starting her professional paint career 18 years ago, scared of heights and completely unable to tape a straight edge, she is now wildly eager when a two-story foyer pops up on her schedule and she can spot a bad trim line from a mile away.
Is there a person in particular that had a substantial influence on your style or your decision to become a decorative artist?
This one's easy! My mom! She is my business partner and literally taught me everything there is to know in decorative painting. Starting her business in 1991 when I was just six, my first memories of creating art was sneaking down into her studio and experimenting with anything I could get my hands on. Being able to work with my mom is something I will always cherish (just don't ask me how many times I've been "fired" or "went on strike" in my early '20s).
What have you found to be successful when you're trying to generate new business?
I would say, interior designers are your best friends. Building relationships with them, especially the ones that you really vibe well with will always generate new AND exciting business. Repeat customers, marketing, word-of-mouth…sure that's all great and important to do, but when you build your 'revolving door" of design teams that trust you, not only are you generating business but you're doing what you love and who you love doing it with.
What do you enjoy most about owning your own business and what do you enjoy the least?
I love that every project is a new experience. You're walking into a new home, you're meeting new clients, and you are forced to expand creatively every time. Projects are like snowflakes; sometimes they appear the same, but there's always something different about them. What I guess I enjoy least would be that I can never pinpoint when my busy or slow seasons are coming. What I've learned from this is to always keep a "leads list" of clients who are just fishing around that you can reach out to. I've also learned that when I'm busy I flourish under that stress, and for some reason I'll just eat, sleep, and breath my projects.
On a whim you buy a lottery ticket and you end up winning $10 million. What would you do?
BYE, BYE, STUDENT LOANS! Also, I find this one funny because most people's first answer is to quit their job. I couldn't quit if I wanted to. Once you know how to do decorative painting, your brain just won't allow it to stop. You see a cool shadow on a sidewalk, you immediately know what tint/glaze ratio you need to turn that into a cool technique for a moody entryway. I guess if I had millions, I'd just do it for free for all my friends and family…and take a lot more naps.
You've been given an antique armoire. You can't give it away or sell it. What would you do with it?
I'd love to modernize it, but definitely give it a shock factor. Like maybe put it in my kitchen, and when it's closed it simply appears fully restored with all of its original beauty on the outside, and when you open the doors it's a coffee station with a bold, almost blinding metallic textured faux finish. I am a sucker for really unique hardware though, so that'd have to play a part too. Oh man, now I really just want to show you!
Favorite HGTV star or show and why?
Maybe I'm biased since she's from Chicago, but Alison Victoria is my favorite HGTV star for sure. I love watching Windy City Rehab not only for her design esthetic, but also for her no-nonsense sass. She has a beautiful vision and she gets it done no matter what. I can appreciate that. Not to mention, she's a complete boss at seeing the value of something old and making it even more valuable turning it new again.
See more of Erin's work here.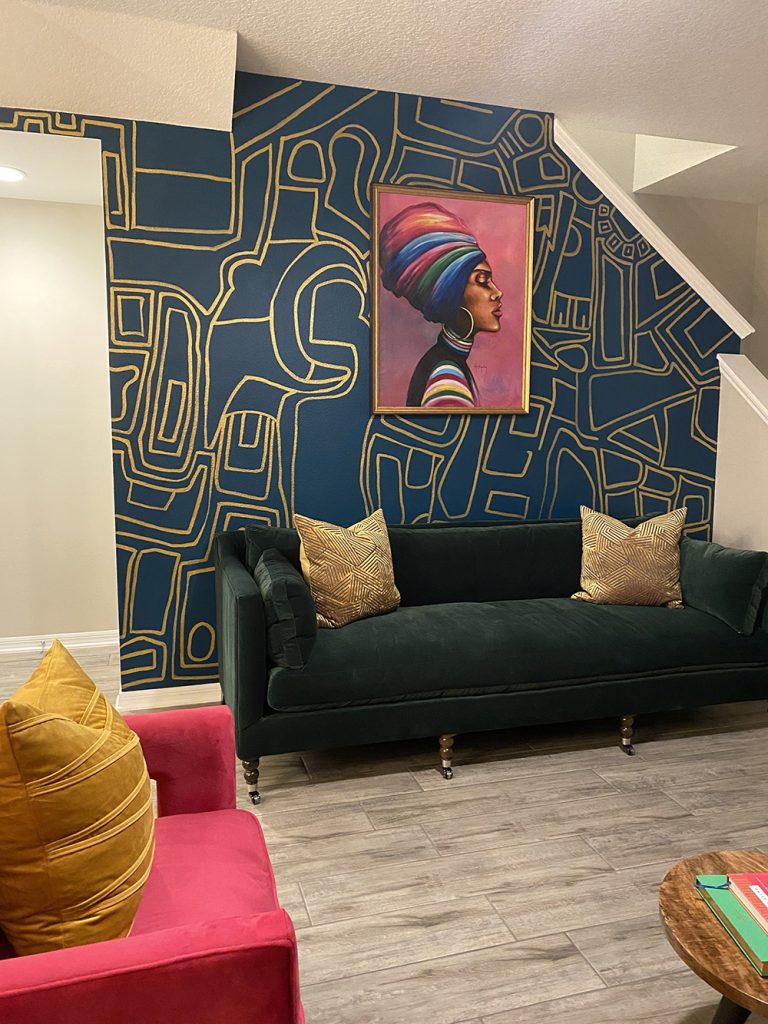 Jittaun Priest of Brushworks Design is a decorative artist located in Chicago, Illinois with a design style that is modern, clean and timeless. Jittaun loves the use of
Read More »