Mural Artist: Anón
Location: Wilmington, North Carolina

Commissioned by the Arts Council of Wilmington, North Carolina, our mural, "The Hidden Gem", serves as the "last piece" of a newly renovated historic space in the heart of downtown Wilmington. Originally the site for North Carolina's first movie theater, Bijou Park is now a connecting corridor linking their Main Street to the river front and a convenient, beautiful respite from the city's hustle and bustle. The narrative pays homage to the movie theater while highlighting North Carolina's natural "jewels" (Bijou means small, precious jewel), and offers a nod to this pocket park as downtown's newest "hidden gem." This massive piece — now downtown Wilmington's first large-scale mural — had a community component in which over 500 mostly local people helped paint the mural over the course of a weekend.
About the Mural:
"The Hidden Gem", 100'x27'. 2200+ triangles. Painted using Golden Paintworks Mural & Theme paint.
See it at:
Bijou Park, 225 N. Front Street
Wilmington, North Carolina 28401
This project is dear to us because it really took the efforts of a caring group to bring this mural to life, as they had to fight for a sign ordinance revision in order to get large murals in their downtown. It was also in a spot with heavy foot traffic, and Wilmington is full of warm smiles and gentle hearts. We were so happy to bring a source of candid joy to so many, and hope it inspires the city to bring many more pieces of public art to their downtown. Samantha and I like to joke that we have the sort of job where our boss (the public) tells us "Hey, good job!" every two minutes or so. High morale!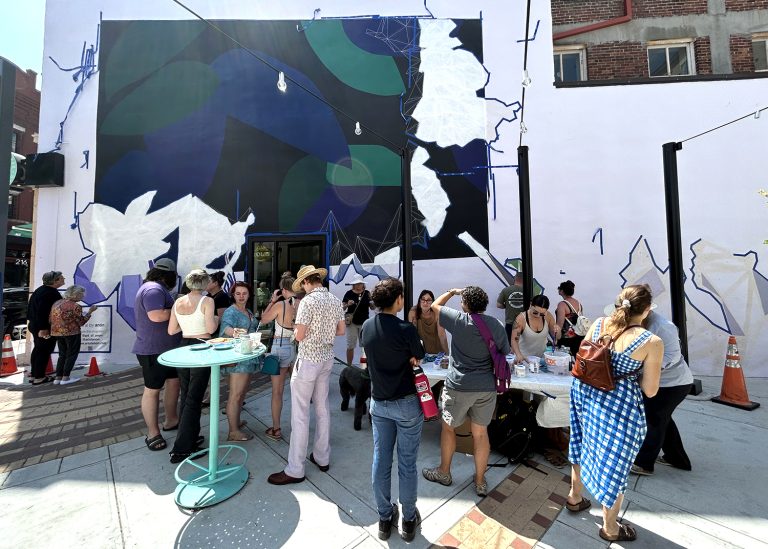 About the Makers: Anón
My wife Samantha and I make murals and studio arts using only the rigid shape of the triangle to make highly organic compositions. We find inspiration in flora/fauna, organic forms, and anything that reveals itself asuniversal law. Our work is an exploration into the subject of interconnection, and rudimentarily mimics the function of triangles as the most fundamental fabric of reality. With often thousands of triangles to tell the story, our process seeks to showcase how, just as in life, each piece is an integral part of the whole regardless of color or size. We think of it as an ode to the threads that connect all 7.8 billion people to each other and everything else in existence.
Besides making solo murals we also work with a community mural format that allows for people to paint murals together. They are really at the heart of our work because we love to bring people into a space where they can practice the wonderful art of being together, all while creating a beautiful body of work. We have facilitated projects all over the States where hundreds of viewers become the artists. There's no age or skill limit thanks to a number of failsafes; if they can hold a brush and put it to the wall, they can paint. This process yields a sort of mental real estate comparable to tangible ownership; it turns a public space into "our space — the place where I collaborated with others." Historically speaking, people tend to remember the piece(s) they painted amongst hundreds of others many years later.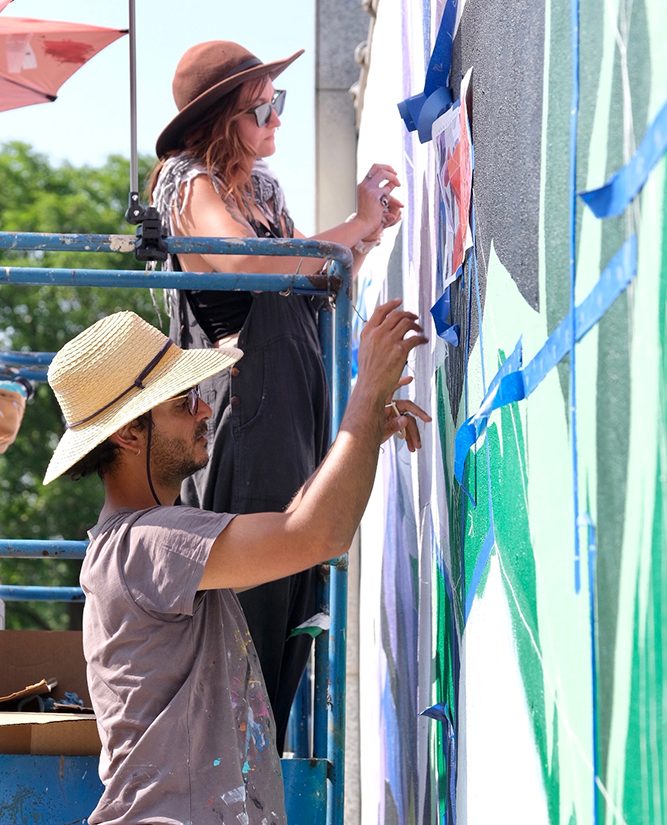 Samantha was born in New Jersey and grew up in North Florida. By my standard, she's a genius. She can take any idea and forge it into something beautiful, and she can organize ideas into something cohesive and worth working on. Big picture, creative gal. She sees the potential in everything and is amazing at chipping away at the marble to reveal a beautiful statue. She's the filter. Sometimes I work on something for hours and hours, and right before the deadline she'll tear it apart and offer a different direction, but the result is typically worth the rework. I was born in Cuba, surrounded by art in many of its forms, and moved to Jersey when I was 13. After high school I joined the Navy and ended up in Florida, where I've been since. As for me, I'm the brawn of the operation. I have hands I love to use, an attraction for the meticulous, a natural reservoir of patience and the resilience to match it.
Both of us love people, serving others through the redemptive power of art, and we live to spread love and expand deeper into it. This combination brought us to murals.
What is your creative process like when making murals?
We can start at the beginning for that one. In 2013 we both attended a 10 day silent meditation course in which I experienced something so transformational that I couldn't convey with words. One day, shortly after the course, I had this idea and had to start working on it right away. The result was the very first studio piece made out of cardstock triangles. They became a way to talk about interconnection, beauty, and mathematics.
When we begin a project, a person may only see a small group of triangles with no apparent connection. As the work progresses these triangles become clusters of shapes and colors that take on material, identifiable meaning, such as an eye or a petal. Only through time may the person appreciate how each piece serves a purpose in making up the final composition, regardless of — and thanks to — being different in color, shape, and size. We feel that either working on or witnessing this process tunes us into a narrative on natural cycles, on the hopefulness and beauty of being alive in a place where cause and effect seems to mathematically fit into the greater equation.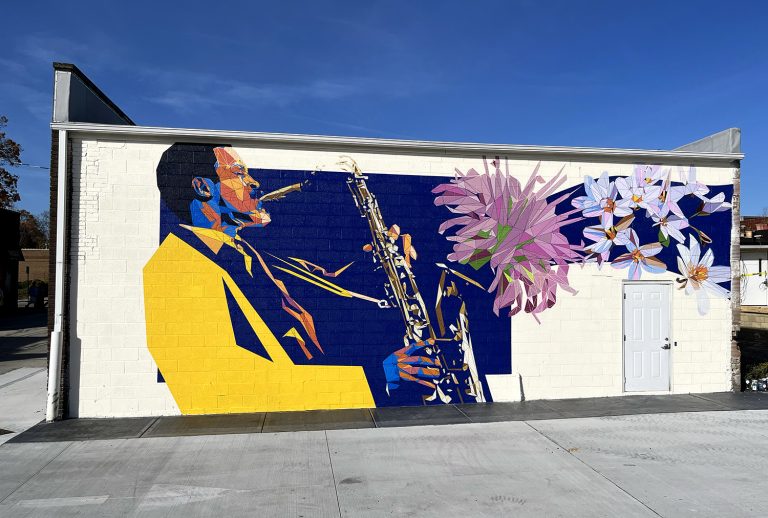 The creative process stems from the intention — regardless of what the client wants, we always bridge their message with our vision. We always create with the public in mind: What is the purpose? What message are we putting out? How does this benefit the people? As we're usually hired by cities, Samantha and I typically study the key words, site, geography, and anything of interest. Then we sit in front of a white board and brainmap for days, narrow it down to the best 1-3 ideas, and then create the artwork. It's really a partnership between us and the hiring entity; we come together to bring an impactful, meaningful vision to the public eye, so we mitigate our differences in vision until we have something we're all proud of. It's quite the process. It's also always rooted in that original intention.
Do you have any other projects coming up that you'd like to share anything about?
We have a few exciting projects coming up, but a notable one is scheduled to take place in Tucson, Arizona, where we are contracted to bring a community painting event to one of their districts. This is the first time we are selected solely for the community component. We've had about a dozen community murals, but it's always a portion of the project and not the focus. This time is different, and we certainly hope it's the beginning of a big wave of similar projects because we really love working with people. Nothing like standing back and watching ten or twenty people, of all different looks and shapes, painting a wall at the same time. It's such an equalizer.
You might also be interested in:
Follow @GPWMuralPaints on social for more featured murals, events and more,
or head to our store to shop our Mural & Theme products.